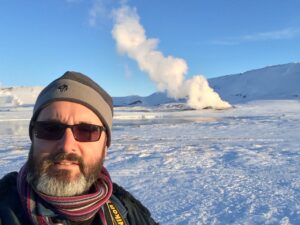 Art Statement 2021
"Grand or bland, some specific landscape is the start of my photographic activity, then I head in to more emotional territory.
"What went on here? Why does it look like this?", are some of the questions I begin with when delving in to my place-based work.
I shoot with both film and digital cameras, often low tech film cameras, then I make prints usually as a series to get at the meaning or feeling of a particular place." – Martin Cox
Bio
Martin grew up in the UK where he attended two attended art schools. A desire to explore new horizons led him to San Francisco where his black & white series depicting post-industrial Wales was exhibited. Settling in Los Angeles, Martin trained as a master black and white analogue printer before going on to establish himself as a fine art photographer.

Fascinated by the overflowing void of desert landscapes, his photography has often centered on  both cold and hot deserts.
His ten-year project at the Salton Sea, CA — was exhibited in Los Angeles and London, Martin's large prints of Icelandic landscapes were exhibited at the Húsavík Museum in Iceland in LA galleries.  Durational projects have centered on entropy, decay and the aftermath of human activity  – Cox's series on a 700 year-old decaying English manor house was shown at PHOTOLA, and a seven-year project capturing the decline of the ocean liner was presented at the Los Angeles Maritime Museum.  A time-based photography installation was exhibited at The Factory, in Iceland summer 2021 and his diana-camera prints in his series Terra Figmenta exhibited in 2022.
SELECTED SOLO EXHIBITIONS
Snow Drawings, Fabrik Gallery, Culver City, CA 2018
Museum of Ennui, ShoeBox Projects 2018
Right Here Far Away, HUSAVIK MUSEUM, Husavik, Iceland 2017
SELECTED GROUP EXHIBITIONS
Terra Figmenta, Academy of the Senses, Icelandic Art Center, Summer 2022
"Perceive me", group show curated by Kristine Schomaker, MOAH, Museum of Art & History, Lancaster, CA 2021-2
The Art of Transformation, Visionary Art Collective, Brooklyn, online 2021-2
Velocity of decline, photographic installation, The FACTORY, Djúpavik, Iceland summer 2021
Celebrating Matter, MATTER STUDIO GALLERY, Los Angeles, CA 2020
Perceive me, CAL STATE LA, 2020
Reflecting Matter, MATTER STUDIO GALLERY, Los Angeles, CA 2019
One Louder, 11 photographers on LA, NEUTRA INSTITUTE, (curated by Dulce Stein) Silver Lake, CA 2018
California Rising, Fabrik Projects, (curated Chris Davies) by Culver City, 2017
Salton Sea: Past, Present, Future, UC Riverside, Palm Desert, CA 2017
The Solbrekka Show, Fjuk Art Centre, Húsavík, Iceland, 2016
LAND: Interactions Pasadena Photography Arts at Keystone Gallery, Los Angeles, 2015
Divergence: Photographs from Elsewhere, FotoFreo 2012 and FORM present an epic survey of international contemporary photography, March 2012
ART FAIRS
Photo Independent, The Reef, Los Angeles, CA 2017
Photo LA, Sarah Lee PROJECTS, The Reef, Los Angeles, CA 2015
COLLABORATIONS
Call @ Response, collaboration with distance. Shoe Box collaborations with Kristine Schomaker, Francisco Alvarado, Diane Cockerill, 2020
Landscape images projected for Icelandique, operatic/photographic, music: O-Lan Jones, mezzo soprano: Gretchen Johnson, Cello: Nicole Calhoun, 2016
Landscape images Included in Open Desert Music and Photographic Arts Showcase, by Cristopher Cichocki, The Annenberg Theatre, Desert Museum, Palm Springs, CA 2016
Shared Skies, by Kim Abeles, an exhibit of digital prints of sky photographs from artists throughout the world, Art-Science Gallery of the National Science for Atmospheric Research, Boulder, Colorado 2014
RESIDENCIES
GilsfjordurArts, Kroksfjardarnes, Iceland Sept 2019
Fjuk Art Centre, Husavik, Iceland, February – March 2016
PUBLIC COMMISSIONS
Hollyhock House, City of Los Angeles Cultural Affairs, CD-13 Echo Park, Los Angeles 2015
Harbour View, Los Angeles Maritime Museum commissioned wall mural for permanent display 2015
PRESENTATIONS
Artist's Talk, Hlunnindasyning, Reykholar, Iceland, May 2019
Artist's Talk, Snow Drawing, Fabrik Projects, Los Angeles, July 2018
Artist's Talk, Pasadena Photography Arts, Pasadena, 2016
Artist's Talk, Keystone Gallery, Los Angeles, 2015
Artists' talk, Photographer's Eye: Los Angeles Central Library, 2015
INTERVIEWS
Podcast interview by Erick and Jenny on Wallflowers in Bloom. October 2020 Episode 16 – Landscapes and Maritime Imaginings with Photographer Martin Cox
ShoutOutLA online magazine Nov 2020 Meet Martin Cox | Artist, Photographer & Artist Residency Founder
EDUCATION
Bachelor of Fine Arts Degree (with Honors), Exeter College of Art & Design,
UK Fine Art Foundation course, Winchester School of Art, UK
ARTICLES, PUBLICATIONS
Interview: Artist in Lockdown by Sergio Gomez, Chicago, 2020
URVOR Magazine, interview, artist and residency founder Martin Cox, Westfjords, Iceland 2019
LISTAMANNAHÚS Á GILSFJARÐARBREKKU, BB.is Westfjords Iceland publication, July 2018
Martin Cox: Visual Poetry Both Epic and Haiku, Diversions LA by Genie Davis July 2018
Featured Artist Martin Cox, VoyageLA, June 2018
Martin Cox's Museum of Ennui in The Closet at Shoebox Projects, Art & Cake Contemporary Art Magazine, May 2018
An Interview with Photographer Martin Cox – Iceland, Outerspace and Humanity by Sophia Groves, Nordic Style Magazine, June 2017
Lenscratch – Fine Art Daily, Martin Cox: Cold Desert interview by Aline Smithson, August 2017
Our Ever Changing World: Through the Eyes of Artists #4 Artists, ART & Stories (Volume 4) by Karrie Ross 2016
Lenscratch – Fine Art Daily, Martin Cox: LANDED review by Aline Smithson, May 2015
The Gay & Lesbian Review Worldwide (New York). A bimonthly journal of history, culture and politics Volume 20, Issue 3: June 2013
Lenscratch- Fine Art Daily, review by Aline Smithson, Feb 2011
AFFILIATIONS
LACE, Los Angeles Contemporary Exhibitions, Board of Directors 1995-97
LALOP, Los Angeles League of Photographers, Board of Directors 2004-2006
COLLECTIONS
Húsavík Museum, Los Angeles Maritime Museum, Fabrik Projects (Chris Davies), Studio For Southern California History, California Wilderness Coalition, Sarah Lee (Sarah Lee Projects), David Fraire (Metro Gallery), Robin Blackmon (Fototeka Gallery), Michael Hale (HaleArts Space), Sara Jane Boyers, Paul Langlotz & Mark Sprecker, Paris Barclay, John & Lynn Pleshette, David & Diana Jacobs, Paul Reiser, Robert Greenbaum.